Educational & Psychoeducational Groups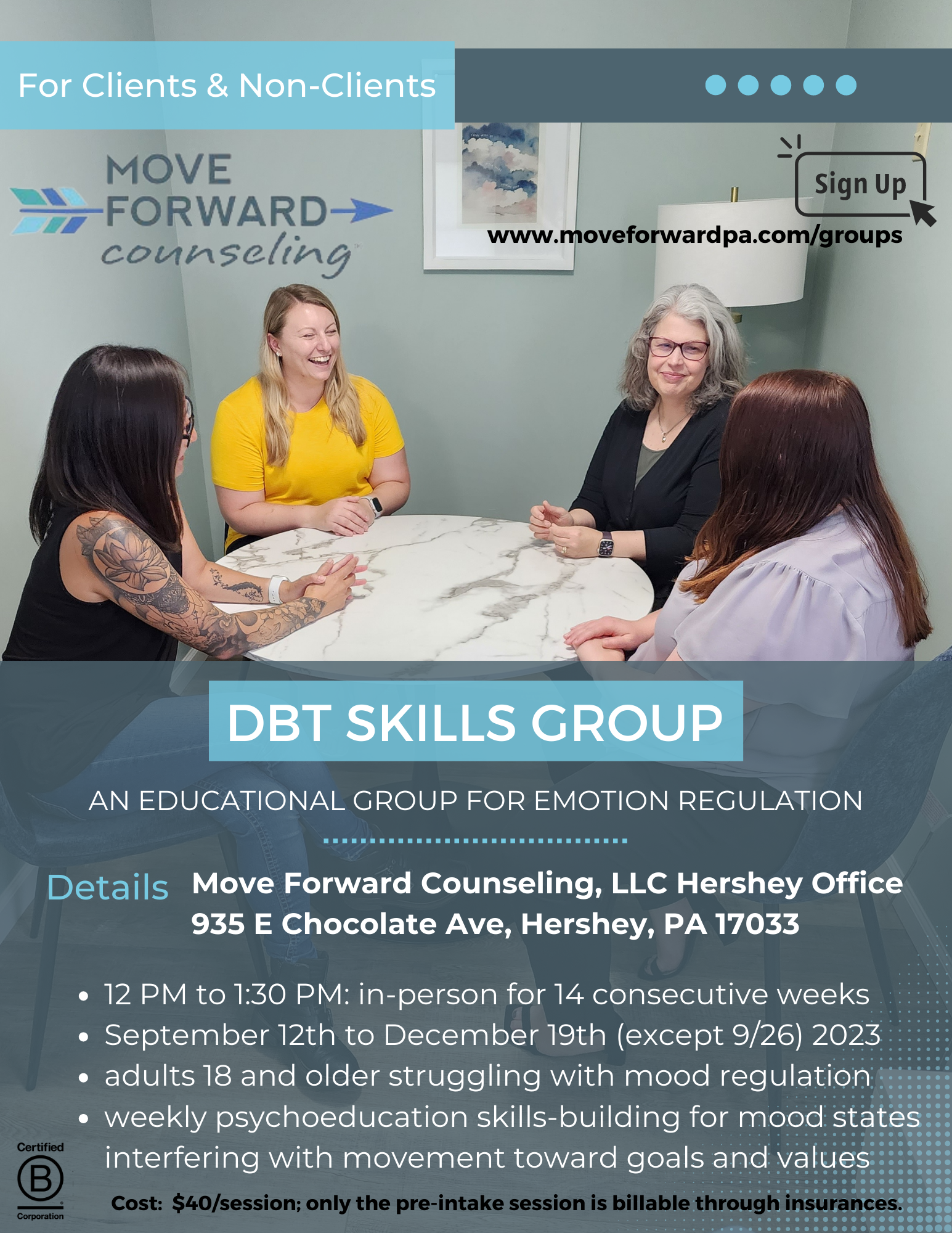 In-Person Group in Hershey, PA
Who can benefit?
This skills group is intended for adult clients (18+) who struggle with regulating their mood (e.g., sadness/depression, anxiety, excessive worry). The group benefits those whose mood states cause interference with their ability to move toward their goals and values. This group differs from traditional psychotherapy process groups and focuses on acquiring and mastering DBT skills.  Read a related article.
This group style allows participants who may be hesitant to share personal details with other members to participate in a psychoeducational learning environment. Another unique quality in our offering is the guarantee of small group sizes (limit 6 participants per cycle), allowing skills to be individualized to participant needs.  
The Group's Location, Times, and Fees
Note:  This group's start date has been postponed to October 2023.  Inquire about specific dates.
This group meets in person at our Hershey Office (935 E. Chocolate Avenue) from 12 p.m. to 1:30 p.m. for 14 consecutive weeks from September 12th to December 19th (no group on September 26th).
The cost for the group is $40/session; the total 14-week program is $560.00.  Insurance does not cover the DBT Group sessions, however:
Non-current clients will need to complete an intake session that can be billable to insurance.
Current clients will need an onboarding session, which is also billable to insurance.
What Can I Expect? 
Each week, participants will be presented with skills to build upon each other, so commitment to all 14 sessions is required. It is highly recommended that participants are currently engaged in individual therapy. We start with a pre-screening telephone call with Dr. Williams-Myers to ensure the group fits your needs. If the skills group is a good fit for you, an individual orientation session/ diagnostic intake appointment with Dr. Williams-Myers is required before the skills group cycle begins. This orientation session may or may not be covered by your insurance provider. 
Sign Up or Inquiries
If the location or the available time frame does not fit well for you, we are forming a waiting list for an online skills group with a start date TBD. Sign up (for the in-person group).  Let us know what would work best for the online group.
More Reading & Resources